PEMF Success Stories
My Mom suffered a stroke at 69 years of age. She was right-side paralyzed, unable to speak and primarily bed ridden for 7 years. She was in constant pain from diabetic neuropathy – sometimes so bad she'd cry when her toes touched the bed sheets. Her right arm was stiff as a board and her right hand was closed in a tight fist and could not be opened. She suffered from depression.
It was like she felt trapped in her own body; her medications were not helping her.
In desperation I bought a Pulsed Electromagnetic Field Therapy machine. We saw results almost immediately: I was able to open Mom's clenched fist and extend her rigid (right) arm for the first time in years. She began to speak well enough that I could understand her. She stopped crying every day. Gradually I weaned her off all her medications. Within 3 months her blood pressure and blood sugar were within normal range. Mom was happy again; she looked forward to her daily PEMF treatments.
Mom's doctors were amazed at the change. One even said privately: I don't know what you are doing but keep it up, your mom is doing great.
---
On July 14, 2015 I was in a car accident traveling at 70 miles per hour. When I came to, I had a hard time breathing, felt excruciating pain all over my body and there was blood everywhere. My right arm was lying limply on the passenger seat, my right femur was protruding through my pants and my right foot had broken off my leg and was on the floor board facing backwards attached by a strip of skin. I was airlifted to the nearest Trauma Hospital – where a group of remarkable surgeons put so many screws and plates in me I was nick-named the Bionic Woman by staff.
This is a picture of my foot about a month later (August); I had just gotten my cast removed.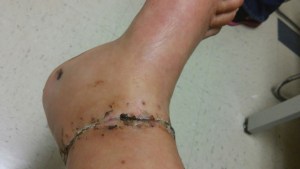 This team of surgeons was amazing and the care at the hospital was great. But I realized very quickly that, after the doctors had completed their repairs, there was little else being in hospital could do for me. By my second week in hospital I grew very anxious to return home – because knowing what PEMF had done for my Mom who was left bedridden and unable to speak for 7 years following a stroke – I was wanting to start using it as part of my healing.
When I left hospital I needed a wheelchair, was on powerful pain medication, and was totally reliant on my family to care for my needs. I began "pulsing" my entire right side for 20 minutes three times a day. Within a couple of days I began to feel stronger though I was still unable to put weight on my right side. I also noticed all the old skin on my right foot dying off and I could actually peel it away in strips. New pink skin was already forming underneath the old skin. I also was able to stop taking the pain medication.
About 4 weeks later (second week of September) I started physical therapy at the local hospital. I continued to use my PEMF machine each evening following therapy. It took another 6 weeks (late October) before I was given the go ahead to bear weight on my right side (as tolerable). Despite the pain it felt great to stand again.
I gave up the wheelchair and started walking with a walker for about a week, until I was able to trade my walker for a cane; I walked with a limp at this point. My therapists were amazed at how quickly I had progressed from wheelchair to walking.
My therapy ended November 9th and I felt much stronger but still limped. I continued to pulse each night for 20 minutes. By the end of November I was able to walk without a cane – though I still limped slightly. Today is the 5 month anniversary of my accident and I am now able to walk in my favorite sketcher sneakers, do my own grocery shopping and household chores. I no longer limp.
My foot looks very different today. As I looked down at my foot turned backwards and hanging by the skin 5 months ago it's hard to imagine this day would ever come. The only lingering effect is that my foot still swells and aches after long walks. Fortunately after I pulse my foot with PEMF for 15 minutes the swelling minimizes greatly and the pain subsides.
My experience and my Mom's following stroke are wonderful examples of the healing power of high-powered PEMF Therapy. It's pretty simple: without the work of a gifted surgical team I would not have a right foot but without PEMF I wouldn't have complete use of that foot again.
Thank you for listening and I sincerely hope that this story has opened your eyes to the tremendous healing ability of PEMF. Despite being a nurse I didn't know anything about PEMF either until I started researching ways to help my Mom after her stroke. I hate to think where I'd be without it; not walking that's for sure! You don't need to wait for a health crisis to benefit from it. PEMF is great for wellness, prevention and optimal performance.
---
In 2003 I had my thyroid removed due to cancer. I was given a radiation pill but had a severe reaction to it. I was burned inside; my cells were dead, I turned grey. My doctors had no idea what happened to me or what to do about it. I had several years of weakness and pain. In 2007 I tried Pulsed Electromagnetic Field (PEMF) Therapy at the suggestion of my chiropractor. I used PEMF therapy and Exercise with Oxygen Therapy once a week. After about 6 months an x-ray showed my lungs were clear. As an ordained minister, I credit God first but know that the PEMF and oxygen therapies were part of the answer to my prayers.
Cinda J. Fort Collins, CO
---
Based on my own experiences I recommended PEMF to others: in September 2009, my Daughter Melissa injured her back on the right side. She could barely move or bend and could not walk without pain. She had 2 chiropractic adjustments without relief. She went to her family doctor; an x-ray showed nothing was broken but her pain was getting worse. After 4 days without any improvement I took her for PEMF treatment. There, they used a set of wooden blocks (RTI's Pelvic Correction Technique) to make sure Melissa's spine was in its natural position (and showed her how to do this herself at home) then used PEMF – on the areas Melissa said hurt as well as over her entire back. Melissa left the appointment feeling better but still nervous the pain would return. I called her a day later and she was swimming with her children. The next day Melissa went back to work.
Cinda J. Fort Collins, CO
---
The use of the PEMF Machine has benefited my life in many ways. After a treatment I feel energized and there is a noticeable improvement in my joints and chronic areas of deep tissue pain. Now that I have been introduced to the health benefits of PEMF technology I plan to use it in maintaining my optimal health.
---
Confirming my happy phone call this week, my mammogram came out perfectly clear. Tests last year had shown significant risk. I believe this is thanks in no small part, to weekly treatments with you for five months. In addition, I have no more shoulder pain, and that has been bothering me for 6-7 years. The treatments may also have something to do with my energy beginning to come back. Thank you! All the best.
---
At age 40 I contracted Guillain Barre Syndrome and went from running 50 miles a week to not being able to stand for 50 seconds in about 10 days. I was hospitalized twice and even (briefly) needed a wheelchair. In the years that followed I did things doctors never imagined possible including running my only 26.2 mile marathon. Everybody rejoiced except me: I knew my body was FAR from back to normal.
At 49 when I saw the cells in my legs rejoice – in response to my first PEMF treatment – I knew I'd found part of my answer for full recovery. 15 years later (and having seen many other success stories) I no longer marvel about the effectiveness of high-powered PEMF – only that it's NOT readily available to ALL who could benefit from it. And that's just about anyone who has cells! As for me, PEMF is the biggest reason I have gone from a wheelchair at 40 to daily runs and workouts and a resting heart rate of 50 at 64.
---
Hi James. Thank-you for sharing PEMF with me. I am feeling very good today. It's amazing how my body really responded to the therapy. It really does work. Hope to see you soon in 2017.
Sacha B. Hamilton, Ontario
---
You rock! I have had hip and back related (SI injury) pain and loss of range of motion for 3 years. Thanks to the PEMF treatments I am 98% pain free which is completely the opposite of my life 3 months ago. As I have recovered, I have been able to increase my fitness activities, learning what type of fitness/sports aggravate the condition, and what types of stretching movements improve it. I recommend PEMF as an excellent alternative to taking pain medications. I just wish that I had found this treatment 3 years ago. I also find it sad that physicians are not likely to know about treatment alternatives such as PEMF.
Marlene C. Niagara Falls, Ontario
---
I rented a high-powered PEMF unit in December 2022 to expedite the healing process for a Grade-3 ankle sprain after doctors informed me that it would take 7-8 weeks to recover. However, with the PEMF unit and other therapy I was able to recover in just 3-weeks and be ready for the start of the season at Daytona. I've since purchased my own PEMF unit to incorporate into my daily training regime. I'm hoping this technology will help others in our sport to train and recover from injuries more effectively.

Eric Lux, IMSA & Rolex 24 Hours at Daytona Champion, Buffalo, NY
---
I have spent a career helping Pro Athletes and People of all health levels recover from injury, surgery or simple (but often painful) wear and tear. One of the very best tools I have found to increase the benefits of my efforts and improve outcomes is High-Powered Pulsed Electromagnetic Field (PEMF) Therapy.

Chuck Garlow, LMT, Buffalo, NY
---
Confirming my happy phone call this week, my mammogram came out perfectly clear. Tests last year had shown significant risk. I believe this is thanks in no small part, to weekly treatments with you for five months. In addition, I have no more shoulder pain, and that has been bothering me for 6-7 years. The treatments may also have something to do with my energy beginning to come back. Thank you! All the best.

Helen W. Toronto
---
In 2003 I had my thyroid removed due to cancer. I was given a radiation pill but had a severe reaction to it. I was burned inside; my cells were dead, I turned grey. My doctors had no idea what happened to me or what to do about it. I had several years of weakness and pain. In 2007 I tried Pulsed Electromagnetic Field (PEMF) Therapy at the suggestion of my chiropractor. I used PEMF therapy and Exercise with Oxygen Therapy once a week. After about 6 months an x-ray showed my lungs were clear. As an ordained minister, I credit God first but know that the PEMF and oxygen therapies were part of the answer to my prayers.

Cinda J. Fort Collins, CO
---
Wow!
Wow!
OK, once again, WOW!

Today I did a PEMF treatment on a lady that has been my patient for the past 10 years. She has chronic, nonsurgical low back pain with sciatica. She has tried everything else -- chiropractor, PT, TENS units, injections -- NOTHING has helped, not even temporarily.

When she stood from the chair after her PEMF treatment today, she took 2 steps and broke into tears. "I don't have pain! This is the first time in 10 years that my back does not hurt!"

My nurse who has chronic neck pain and migraines has had her neck treated twice a week. She can't believe the reduction in pain and improved ROM she has already. I am now going to do the neuro protocol, adding the closed loop at the lower mid back, to try and treat the migraines.

The football injuries for my boys have significantly improved as well.

So to say the least, I am impressed with what the PEMF can do. Thanks ... I am grateful that our paths have crossed!

Dr. Jason Hoke, Cincinnati, OH
---
In September 2019 we added an RC MAX PEMF 120 High-Powered Pulsed Electromagnetic Field Therapy device from Replenishing Technologies to our training and recovery tools. We knew this machine was the same one being used by a number of top NFL and NHL Players.

I believe incorporating High-Powered PEMF into what we do over the past 3 years at Texas A&M is a major reason why our Aggie Track Athletes have recorded personal bests, set NCAA records, & won Olympic as well as World Championship Gold. What I like most though - is knowing the foundation for these record performances is healthier Athletes in the form of restored tissue, reduced adrenal stress, better sleep, improved focus and faster recovery (to name only a sampling).

I feel we also made a great choice in working with Replenishing Technologies who provided a PEMF Equipment Package with extra coils and other tools at no extra cost plus unmatched Protocol training and Customer Service. For more information about the RC MAX PEMF 120 and how PEMF helps athletes heal, repair and perform see: https://replenishingtechnologies.com/ public/download/RC_MAX_PEMF_120_for_Best_Athletic_Performance_ and_BestHealth_October_2022.pdf

Saul Luna, Senior Associate Athletic Trainer, Texas A&M Track and Field
---
I have had the pleasure of caring for a beautiful 8 year old girl that was born with esophageal atresia. Following multiple surgeries and endoscopies, she has had complete repair of the atresia. However, her most recent Modified Barium Swallow (12/2022) revealed lack of smooth muscle peristalsis in the esophagus, for which she has compensated by taking large drinks after every few bites of food. Additionally, laryngoscopy has revealed she has unilateral vocal fold paralysis, which has resulted in stridor and dyspnea with exercise, a chronically hoarse and raspy voice, and vocal fatigue.

Recognizing that all medical/surgical interventions had been tried that could give her improvement, this child's mother asked me about trying Pulsed ElectroMagnetic Field (PEMF) therapy. Knowing that PEMF therapy is 100% safe in her situation, I agreed to a trial of PEMF treatments, advising her mother that this should be viewed as an alternative medicine modality, without any guarantee of improvement.

Over the course of the next 11 weeks, she had 18 PEMF sessions (each session lasting 20 minutes). Below is an excerpt from my visit note, describing what this patient and her mother have noticed since starting PEMF therapy: "My breathing is better". No longer having stridor. Does not get as winded when running. When swimming, does not need to take as many breaks; able to now swim the length of the pool without resting. When speaking, she does not need to take nearly as many breaks in her speech to breathe. Able to sing easier. Mom notes more clarity in her voice, not nearly as gravelly. Other family members have also commented on the improved speech. Also, mom notes she is no longer needing to sleep in a semiupright position. Now sleeping on her side or back most nights (indicating that acid reflux is no longer an issue).. Denies dysphagia or odynophagia. Mom notes she is able to eat faster, not having to slow down to coordinate eating and breathing. No longer needing to drink a lot of water to push the food down when eating.

This child's grandmother is also a patient of mine. She was in the office a few weeks ago, and with tears of joy, was excitedly telling me about the improvement she had seen in her granddaughter -- speaking more clearly, and having more energy, not looking nearly as winded throughout the day. Since there is improvement in her GI and respiratory symptoms, I have advised taking a break from PEMF and beginning vocal/speech therapy to teach her the techniques (and benefits of) proper posture, diaphragm support, and appropriate mouth positioning for enunciation (she speaks through a closed jaw). Due to the functionally narrowed airway (due to vocal fold hemiparalysis), she has learned compensatory mechanisms that make speech easier for her; now we can teach her appropriate methods of speaking to achieve the maximum benefit from the therapies she has had thus far.

I continue to be amazed at the improvement that I have seen in some of my PEMF patients!

Jason Hoke, MD, Hoke Direct Primary Care, Oxford, Ohio