PEMF for Athletes
Best Performance made REAL
In a world where (even) 1% difference can be THE DIFFERENCE, High-Powered PEMF is legal competitive advantage that promotes the lifelong health of an Athlete.
RTI has the privilege of directly supporting about 30 NFL/NHL Clients as well as 2 Gold Medal Olympians and a World Champion Track and Athletics Team so they may train harder, play better, recover faster, and heal and repair more fully. Additionally through the efforts of Sports Medicine and Athletic Training Professionals we support a multitude of other Top Athletes from myriad "fields of sport".
For privacy reasons we do not share the names of those with whom we work, so we're naturally delighted that NFL Star Christian McCaffrey included his RC MAX PEMF 120 Device among the 10 things he can't live without. (There are many great choices on Christian's list; his reasons for including his PEMF machine are presented at 9:50).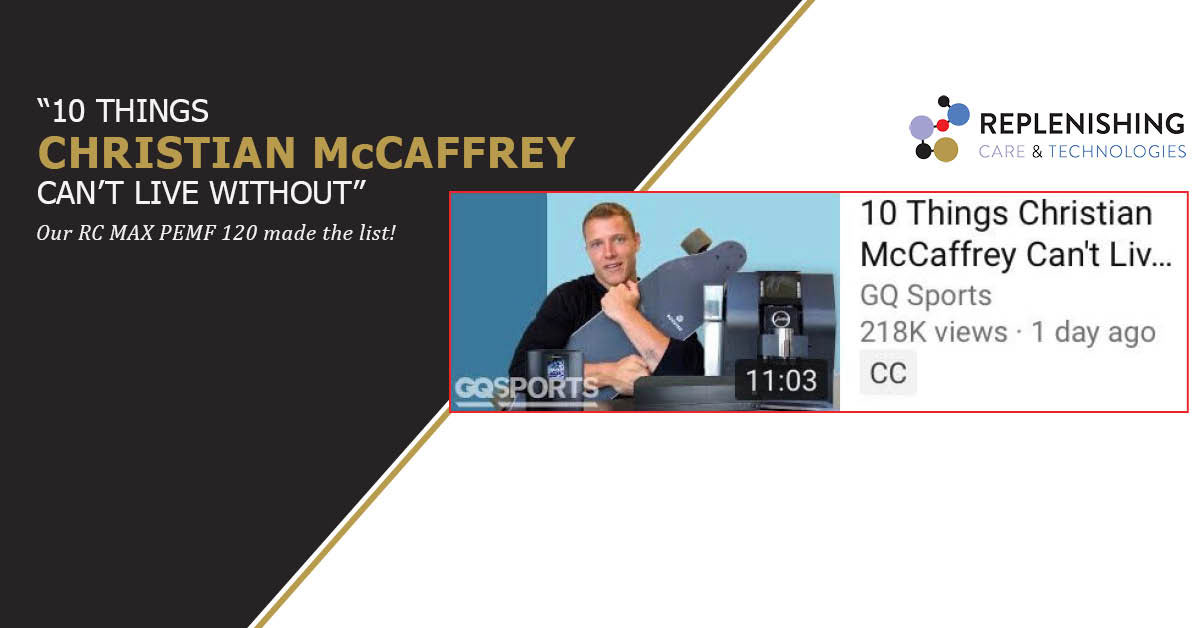 Here are other Athletics-Related Client Successes we are proud to share:
Why PEMF Matters
What PEMF does?
PEMF instantly stimulates muscles, connective tissues, intestines, tendons and cartilage, the brain and peripheral nerve sites promoting healing so Athletes perform at higher activity levels.
PEMF stimulates cellular metabolism, blood and fluids circulation, tissue regeneration and immune system response – creating systemic improvement across cells, organs and integrated systems so Athletes perform better.
PEMF increases blood circulation in and around damaged tissue and helps damaged cells heal by bringing more oxygen into the cells so functions that were lost, begin to recover and injury and/or surgical recovery is accelerated.
95% of people report less pain, better range of motion, more energy and just feel better after using PEMF just 1 time. These benefits last 4 hours to 4 days as healing begins and repeat use extends the period of benefits.
Many Athletes buy their PEMF machines knowing daily use will help give them the power needed to push through the most challenging moments of workout or competition and REPAIR. In our experience Athletes (and non-athletes too) reporting the best results are using RTI's Whole Body (neurological, metabolic and spinal) Protocols daily or (at least) multiple times each week.
Since PEMF promotes longer-term health and wellness it is also an investment that will help Athletes and their Families enjoy the life they have worked so hard to create.
How RTI ensures Athletes get best Results
Whole Body Protocols
Through 10+ years of hands-on PEMF care delivery RTI developed a set of proprietary whole body protocols that maximize the true benefits of High-powered PEMF Therapy. In many ways it is common sense if you think about it: true optimal health requires that every cell, every tissue, every organ and every system is performing as optimally as possible. When that occurs we initiate the systemic improvement needed to function at our best, slow aging, and prevent illness or injury. Of course having every cell, every organ and every system performing as optimally as possible is also crucial to recovering from injury, surgery or illness.
The following may offer perspective:
In December 2018, 2 NHL Teammates bought an RC MAX PEMF 120 machine to share. When they were eliminated from the playoffs they bought another one because neither Player wanted to be without one for the summer. When the NHL "pause" struck due to COVID-19, one of the Players who had traveled without his machine (not imagining how much the World would change over the subsequent several weeks) became stranded very near where the Manufacturing Facility is located. Rather than be without daily access to his PEMF device for an unclear amount of time, he chose to rent a second unit – because of its overall contribution to general health and life performance
RTI PEMF device choices for Athletes
Note: In the event you are unfamiliar with the relative differences in Gauss ratings we included (what we hope is) a helpful comparison to motor vehicles:
No matter which Device you choose
These differences notwithstanding any of the 4 PEMF Devices (as with the 4 vehicles) will get you where you want to go. Click here to see our Athletic Excellence and Personal Best Performance Brochure – which features the RC MAX PEMF 120 on page 4 but applies to each of the Product Choices.
RTI PEMF TRAINING and SUPPORT
No matter which machine is chosen, RTI PEMF Owners are taught (both) a set of Neurological, Metabolic and Spinal Protocols to promote wellness and best performance as well as a set of specific Area, Condition, Joint and Purpose (e.g. adrenal stress release) Protocols to address immediate needs.
RTI's training explains the integration between our Whole Body Protocols and Joint, Area and Condition-Specific Treatment Protocols to enable our PEMF Owners to best respond to (both) general and urgent needs as they present. To facilitate this initial and continuous learning RTI PEMF Owners receive a 40 page Protocol Manual detailing coil placements and timing (with pictures) which also serves as a valuable reference when needed.
Over the years spent as a PEMF Practitioner we have also learned that STACKING complementary technologies (specifically Pelvic Correction Kit which we use to augment our Spinal Protocol, and Human Performance Technology socks/insoles – which optimize a person's neurology in 7 seconds) and alternating Treatment Coils contributes even greater outcomes.
Recognizing this ALL RC MAX PEMF 120, Apollo and Gemini Devices are equipped with our NFL/NHL PEMF premium coil package - which includes 5 Applicator Coils for the Manufacturer's Suggested Retail Price (MSRP) for 3 Coils, plus a Pelvic Correction Kit, Human Performance Technology and Whole Body Protocol Training at no additional charge - as illustrated below in our RC MAX PEMF 120 Package. RC MAX SOZO Units may be outfitted with standard 3 Coil packages but also include Pelvic Correction Kit, Human Performance Technology and Training.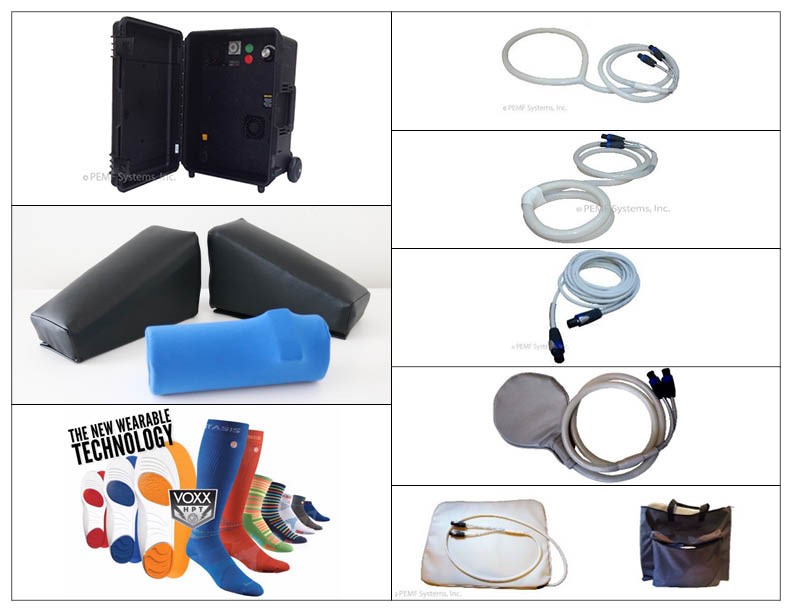 RC MAX PEMF 120 Portable with NFL/NHL Package
RTI provides unlimited Proficiency Training and ongoing support in our Protocols to those whom we train.